Since its inception in 1990, BodenWorks has written, directed and/or produced hundreds of videos for its clients. We are equally adept at providing comprehensive script to screen expertise or single service craftmanship in writing, producing or directing.
Fresh ideas and inventive strategies are our forte. We skillfully tailor every frame to bring out the brilliance in every project. Whether we're shooting scenes or putting the pieces together, a blend of imagination, clarity and focus characterizes our award-winning artistry.
Our video proficiencies include:
Corporate, non-profit and educational production for internal use and online broadcast.
Executive messaging production.
Interviews.
Point-of-Purchase (POP) promos.
Trade show presentations.
Media training video support.
Green Screen production.
Table top insert stage production.
Product beauty shot capture.
B-roll support footage capture.
Talent casting.
Set design.
Animation, illustration and 2D, 3D graphics.
Commercials.
Public Service Announcement (PSA) production.
Video News Release (VNR) production.
Web video production.
Royalty free music library.
Custom music scoring.
Final Cut Pro, AVID & Adobe Premiere Pro Editing.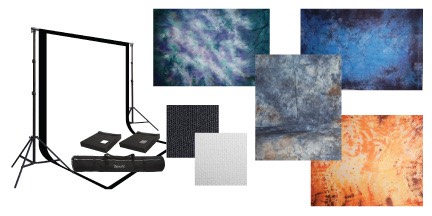 When a backdrop is needed, our portable cowboy studio sets up quickly and offers several attractive backdrop options.
Click a link below to view samples of our work to date.
Contact Brian Boden to discuss your upcoming video production needs.
Thanks for watching!