For Caterpillar...writer, producer, director Brian Boden conducted a series telephone interviews with CAT dealers worldwide. Based on his research findings, he then wrote an comprehensive Design Document for a four module training course entitled "Selling Cat UPS Systems."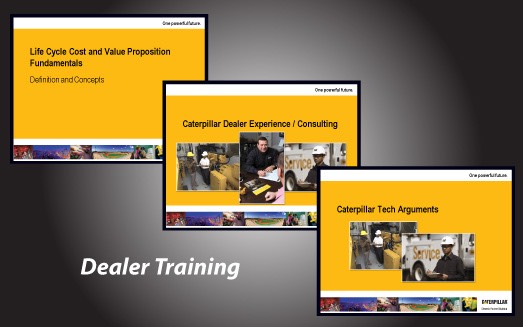 BodenWorks has also provided copy editing and redesign efforts for several other existing CAT training presentations, including:
"Caterpillar Dealer Experience/Consulting"
"Caterpillar Tech Arguments"
"C-Rating Limits"
"Commercial Arguments"
"Comparing GenSet"
"Competitive Overview"
"Life Cycle Cost and Value Proposition Fundamentals"
"The Effects of Gaseous Fuels on Combustion Systems"
Contact Brian Boden to request dealer design document and storyboard writing samples.
Click here to return to the E-Learning & Training Programs main menu.
Thanks for checking out our work!